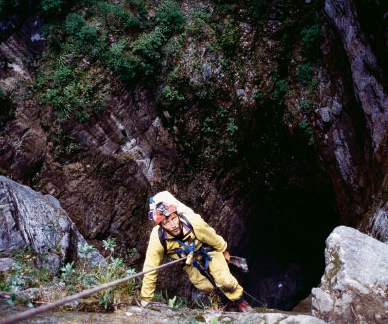 Descending into Harwoods Hole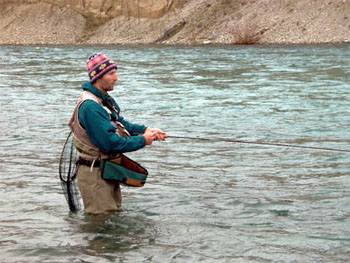 On the river at home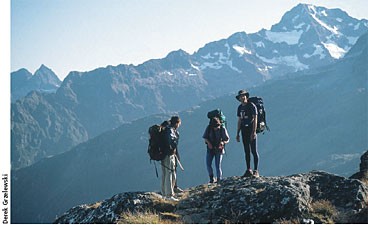 In my backyard, Mt Aspiring National Park

Click to download my official Bio file
About Derek
There is always a danger in a writer writing about himself so to forestall any self-indulgence on my behalf let me offer here a profile of me which has recently appeared in New Zealand Geographic and which was written by the magazine's art director Andrew Caldwell. As always, all credits are his, all errors mine.
Poles apart:
by Andrew Caldwell
In 1986, after years of social upheaval, martial law, and with four agonising years to go before the communist regime's final collapse, 22 year-old Derek Grzelewski—a keen mountaineer—went climbing in the Carpathians. He did not return to his native Poland.
Descending instead into Slovakia then cross-ing into Austria, Derek slipped quietly into Western Europe through the back door.
Travel brought him to New Zealand where he fell into an eclectic mix of vocations, including professional diver and high-rise window cleaner—applying industrial abseiling methods as required. As a freelance cameraman, Derek's full-immersion tendencies earmarked him for "2nd Unit" footage (action sequences). But his ambitions always lay in writing, which came to proper fruition in magazine assignments and his flyfishing stories: The Trout Diaries (to be published by Batemans in early 2009).
Derek's first piece for New Zealand Geographic (issue 19, 1993)—on the subject of glaciers—began with rhythmic invocations: Thump, thump—ice-axe, ice-hammer— thump, thump—left foot, right foot—thump,
thump—axe, hammer...
Following this entrée, he readily took on nerve-jangling assignments such as photographing an ascent of the Kaipo Wall (issue 33, 1997) and abseiling down Harwoods Hole for a spelunking special (issue 34, 1997). Forty stories later, we are still entertained by his unique perspectives.
In this issue, Derek teamed up with photographer Giora Dan to get inside the lives of volunteer firefighters. Derek often includes himself in the story "But here I decided that the gonzo approach would take up too much story, and these guys are so amazing I want every word to be about them."